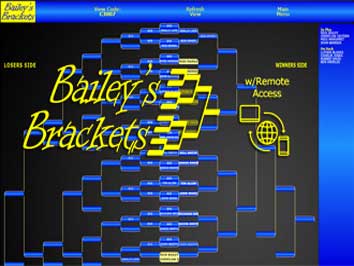 Bailey's Brackets.com is your one stop double elimination tournament bracket system for Chromebook.
Bailey's Brackets is perfect for any team sports bracket. Our bracket system consists of eight (8), Sixteen (16), and thirty-two (32) person brackets. Bailey's Brackets is a double elimination system that uses cutting edge technology to simplify the tournament manager's ability to run a sports tournament. Bailey's Bracket system makes entering players names easy, with a backup system that enables you to correct players names, and back up games in case of an incorrect entry.

Our bracket system can be used on virtually any computer, laptop, chromebook, notebook, tablet or cellphone. A feature of this software is a remote viewing mode. This mode will let a player use their mobile phone to view the tournament so that they can be ready to play when it is their turn. This mode will also free the tournament managers of players who continually want to check the status of the tournament.